di Maurizia Seggiani e Patrizia Cinelli - Dipartimento di Ingegneria Civile e Industriale (DICI)  Department of Civil and Industrial Engineering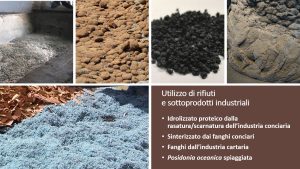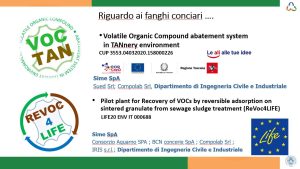 Esistono diversi progetti di ricerca e sviluppo che hanno come obiettivi a diversa scala l'implementazione di processi innovativi di trattamento e abbattimento dei solventi organici volatili (SOV) dalle emissioni delle cabine di verniciatura delle pelli, aumentando le efficienze di rimozione rispetto a quelle raggiunte con gli impianti tradizionali, progettando un impianto di trattamento delle emissioni in aria e in acqua conforme al paradigma Industria 4.0 e basato su un prodotto dal distretto stesso usato come sorbente, in ottica di economia circolare.
innovative treatment and abatement of volatile organic solvents (VOCs) from emissions of
leather painting booths, increasing removal efficiencies compared to those achieved
with traditional plants, designing a plant for the treatment of emissions into air and water
compliant with the Industry 4.0 paradigm and based on a product by district itself used as a sorbent,
with a view to circular economy.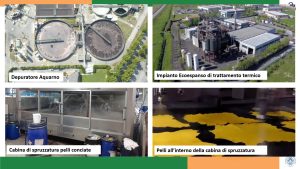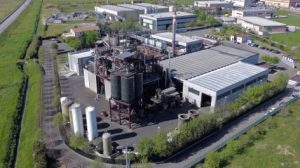 Impianto Ecoespanso dedicato al trattamento dei fanghi di depurazione prodotti dal Consorzio Aquarno e quota parte del Consorzio Conciatori di Fucecchio. Il prodotto finale del trattamento di recupero è il Granulato Sinterizzato (KEU) che, dopo miscelazione con carbonato di calcio, è impiegato per la produzione di granulati inerti per l'edilizia (HSC) e conglomerati bituminosi (HCB) per asfalti.
and part of the Fucecchio Tanners Consortium. The final product of the recovery treatment is
the Sintered Granulate (KEU) which, after mixing with calcium carbonate, is used for the production
of inert granulates for construction (HSC) and bituminous conglomerates (HCB) for asphalts.