Keu tal quale Aquarno Il KEU è un rifiuto speciale, derivante da impianti di trattamento di acque reflue, non pericoloso (CER 190112). Come dichiarato da ARPAT (Agenzia Regionale per la Protezione Ambientale della Toscana), si tratta di materiale derivante dal trattamento termico dei fanghi di depurazione prodotti dal depuratore Aquarno, nel quale vengono convogliati i reflui delle aziende conciarie di Santa Croce sull'Arno. Di per sé può esser considerata una matrice con potenziali utilizzi in vari campi, dovuti alle diverse proprietà, valorizzate con opportuni trattamenti.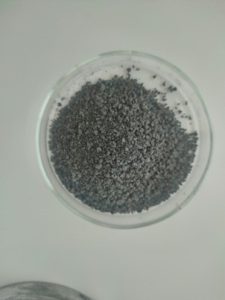 In foto troviamo il KEU stabilizzato, ma con ancora tracce di metallo come si nota dai granuli rossi. 
KEU pirolizzato a 850° C
Il KEU pirolizzato a quasi mille gradi, è completamente inerte. Nessun agente potrà infiammarlo o modificarlo in alcun modo. A questo stadio il KEU diventa ottimale per la funzione pensata all'interno di REVOC, cioè quella di intrappolare nelle fessure i COV. Infatti il KEU ha tutto l'aspetto e tende a funzionare come un carbone attivo, pertanto può assorbire le microparticelle di sostanze chimiche trovate in aerosol all'interno della cabina spruzzo. I gas immessi in aria dalla conceria, ma in realtà da molte altre industrie, sarebbero molto più scarichi attraverso questo metodo, garantendo una pulizia dell'aria dovuta all'assenza di particelle di prodotti chimici. 
At this stage, the KEU becomes optimal for the function conceived within REVOC, namely that of trapping VOCs in the cracks.
In fact, the KEU has all the appearance and tends to function like an activated carbon, therefore it can absorb the microparticles of chemicals found in aerosols inside the spray booth. The gases emitted into the air by the tannery, but in reality by many other industries, would be much more discharged through this method, ensuring air cleaning due to the absence of chemical particles.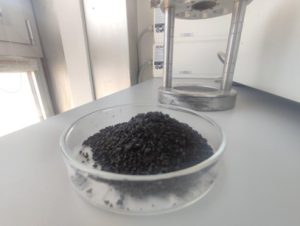 Keu in pellets
Il KEU in pellets, ottenuto da pallottizzazione, qui in varia misura, rappresentano il risultato della sperimentazione come trattenitore di COV. Infatti i COV, che sono volatili, restano intrappolati nel KEU creando un movimento rotatorio.  La pallottizzazione è lo stesso principio che lo scarabeo stercorario utilizza per stoccare il nutrimento.
In fact, the VOCs, which are volatile, are trapped in the KEU creating a rotational movement. Pallotization is the same principle that the dung beetle uses to store food.