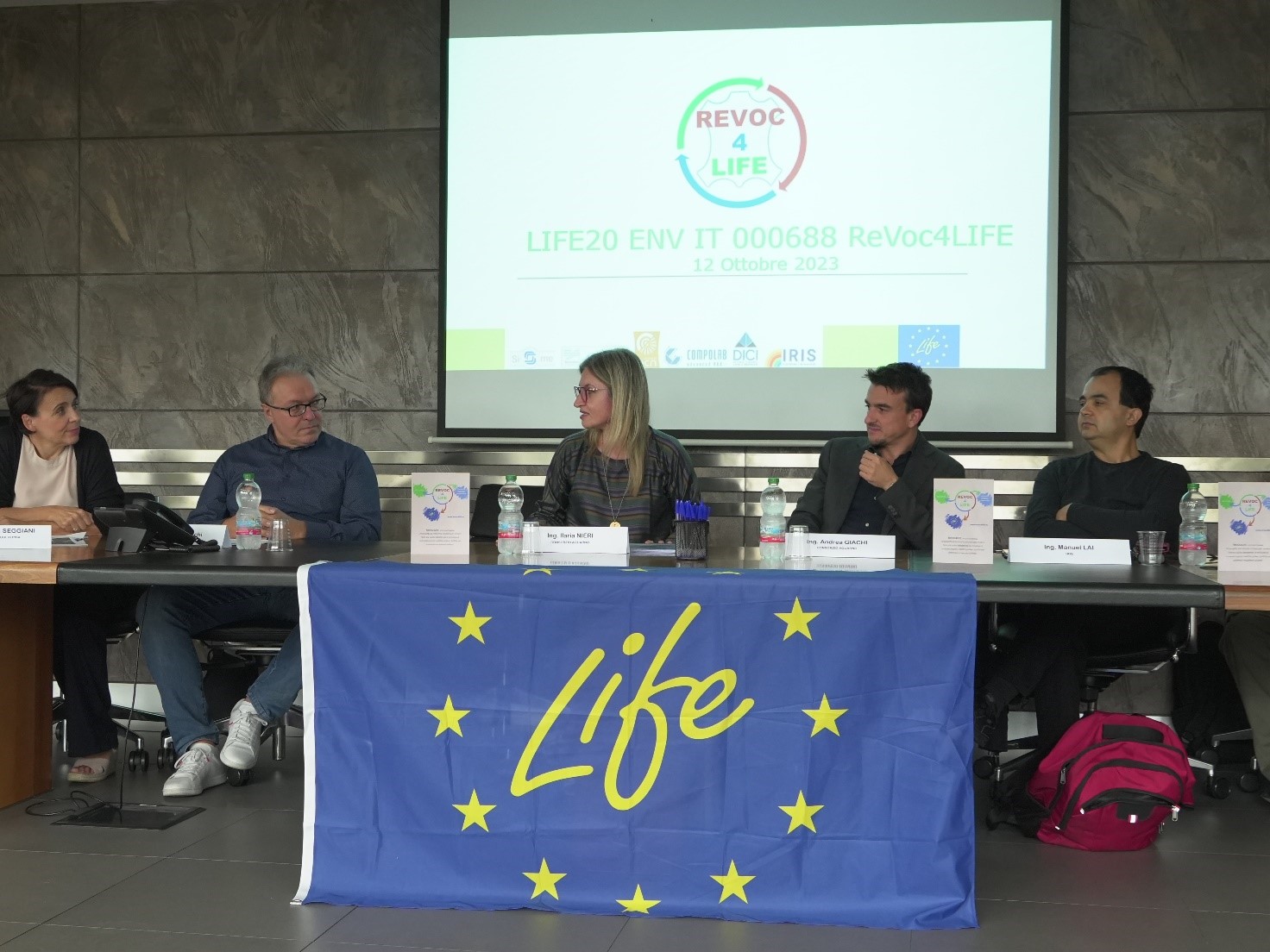 The press conference, held last Thursday, October 12, 2023, was an opportunity for the partners to present the results obtained, giving voice to the researchers directly involved in the ReVOC4LIFE project.
The ReVOC4LIFE project is now about halfway through its journey: the VOC-TAN prototype placed in BCN Concerie SpA, in Santa Croce sull'Arno, has shown promising results with respect to the objectives that the partnership had set for itself already in the laboratory study phase.
This is a source of pride for the tanning sector: atmospheric emissions of VOCs and particulates represent the last environmental impact not yet directly managed, albeit monitored and controlled. The plant resulting from the ReVOC4LIFE project has the potential to abate the emission of VOCs and PM10 into the atmosphere, decrease the consumption of water used in the current abatement plant, and recover part of the removed solvents for use, for now, in cleaning the finishing machinery to replace fresh solvents. In addition, it will be able, as shown by the results presented at the conference, to employ a waste from tanning production, KEU, as a sorbent to complete the removal of VOCs in a circular economy approach.
One of the unique aspects of the ReVOC4LIFE project is the modular approach to solving emission problems that has engaged the project partners in a long and fruitful research and development process. This modular design allows specific problems, such as abatement of VOC and PM10 emissions, to be addressed with modules that can be tailored to the needs of each industrial plant. The approach has been optimized to minimize operating and maintenance costs to ensure economic sustainability. Modularity also has the advantage of facilitating plant scalability. Because of this feature, the plant can be expanded relatively easily, both in terms of size and in terms of replication in other production units. This makes project implementation extremely easy within the local tanning district, where production requirements and environmental regulations may already be well known.
The real strength of ReVOC4LIFE, however, lies in its applicability to a variety of other industries besides the tanning sector. In fact, the modular design is designed to be easily adaptable to various needs and application contexts, such as the automotive and wood and even the recycling industry. In each of these sectors, specific emission management needs could be addressed through the integration and configuration of the ad hoc modules fine-tuned in the design.
PRESS NEWS
La Nazione: https://www.lanazione.it/cronaca/keu-progetto-fc52148f
Gonews: https://www.gonews.it/2023/10/12/keu-progetto-aquarno-riciclo-conceria-santa-croce/
Il Tirreno: https://www.iltirreno.it/pontedera/cronaca/2023/10/13/news/il-keu-verso-la-sua-seconda-vita-progetto-per-abbattere-inquinanti-1.100401028